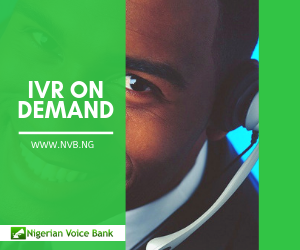 IVR IN Nigeria

Lagos is the economic power house of Nigeria but not all things comes easy in Lagos.


Finding professional voice talent for IVR production in Lagos and Nigeria at large can be an uphill task. Especially when it involves translating and voicing in the major Nigerian Languages.


At the Nigerian Voice Bank, we have fixed the issues of IVR production in Nigeria with our 3 step approach of Translation, Voicing and Production.


We have built a community of the finest Nigerian voice talent both online and offline. Our translators are linguist who have spent more than a decade translating IVR scripts majorly for telecoms and financial services. All of this collides with our professional production team to give you a perfect blend of world class production.


The bulky nature of IVR scripts makes pricing a key element in the decision making process of organizations, to that end we have created the IVR ON DEMAND service that gives you the ability to spread payments amongst other benefits.


Our IVR ON DEMAND is a first in Nigerian. Request for a brochure today http://nvb.ng/contact/ or send us a mail at customercare@nigerianvoicebank.com


We are always excited to read your mails.