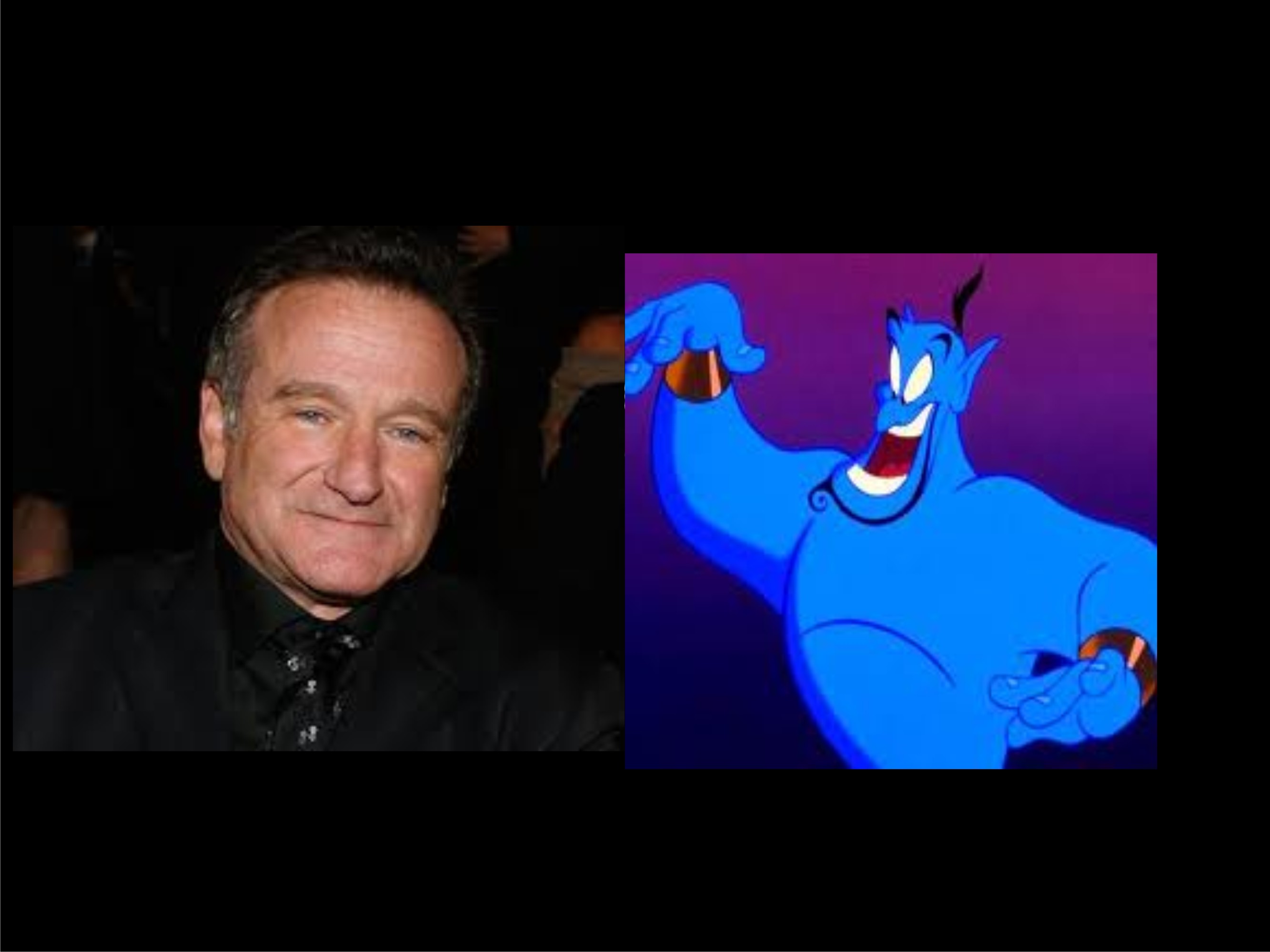 The face behind the voice: Genie in Alladin

Williams has described himself as a quiet child whose first imitation was of his grandmother. He did not overcome his shyness until he became involved with his high-school drama department.


In 1973, Williams was one of only 20 students accepted into the freshman class at the Juilliard School, and one of only two students to be accepted by John Houseman into the Advanced Program at the school that year, the other being Christopher Reeve. In his dialects class, Williams had no trouble mastering all dialects quickly. Williams left Juilliard in 1976.


He rose to fame with his role as the alien Mork in the TV series Mork & Mindy, Williams went on to establish a successful career in both stand-up comedy and feature film acting. His film career includes such acclaimed films as Good Morning, Vietnam (1987), Dead Poets Society (1989), Awakenings (1990), The Fisher King (1991), andGood Will Hunting (1997), as well as financial successes such as Popeye (1980), Hook (1991), Aladdin (1992), Mrs. Doubtfire (1993), Jumanji (1995),The Birdcage (1996), Night at the Museum (2006), and Happy Feet (2006).


In 1992 Disney real eased its 31st animated film Alladin starring Robbin Williams as Genie. The movie became one of Disney's most famous till date, winning many awards making over half a billion dollars.


When Robin Williams was approached by the producers, to voice the role of the Genie, a powerful hilarious guide, he turned it down thinking the American audience may not receive it in the right way.


Instead of hiring another actor, the producers who believed strongly in his ability to deliver the script, created a video of the genie with Williams' voice doing one of his own stand up routines. Williams said that when he watched the video, "he laughed his ass out" and accepted the part right away.


It was a decision that turned out to be an extremely fruitful decision as the movie immediately became a success and was instrumental in establishing the importance of star power in voice actor casting.


In February 2013, the CBS network announced it has picked up a pilot episode for a David E. Kelley comedy called Crazy Ones that will star Williams. He is set to play a father who works with his daughter in an advertising office. No word yet on the starting airdate.


William was nominated for the Academy Award for Best Actor three times, he went on to receive the Academy Award for Best Supporting Actor for his performance in Good Will Hunting (1997). He has also received two Emmy Awards, four Golden Globes, two Screen Actors Guild Awards and five


More of this voice will still be heard

.