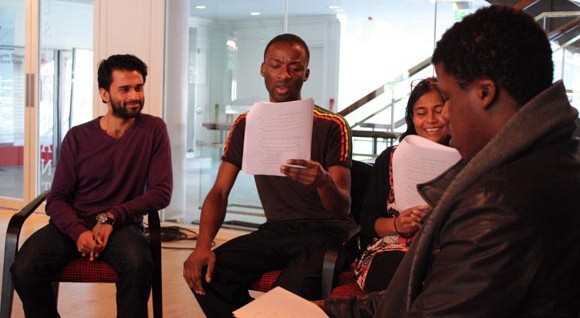 Voice Over Script Reading Tips

Hello friends,


Hope you are getting better in your voice acting. I want to share five voice over script reading tips I picked up from an article of J.C Haze I read online. J.C Haze is an American Voice Over talent who was opportuned to be in a class taught by Maura Tighe, a casting agent.


These tips, mixed with my personal experience have been very helpful to me, so I thought it will be to you as well.


1. Don't try to be a voice that you're not. Your strength lies in your own unique voice. So, take the reality of your voice and put it into your voice work. Get yourself to fit the script. So, don't try to be a voice that you're not.


This is one error many new voice talent makes, they usually get too conscious of the microphone and in an attempt to be impressive, they end up fake.


2. Personalize your reads and know your audience. Ask who am I and who am I talking to and think of specific people when you're doing that. Put yourself in somebody's shoes and imagine who you're talking to as well.


If you know who the script wants you to be, then you can attempt to be that person which will enable you to deliver the script perfectly but if you fail to understand this bit then you may never be able to deliver the script right. Voice Overs are not done by chance, it is professional.


3. It is very important to read and understand the message of the script. You are expected to read through the entire script to get that big message. Establish what's happening in your script at every spot and make sure you adjust accordingly. It's important that you're really in the moment in that spot, so make sure that you're living in the world the script writer had created as you're recording it.


4. Connect better. Yes, we know that Voice Over is the act of reading script, but don't just read it out, act it out. It is very important to be emotional with your reads. Humans are naturally emotional beings sonan emotional read will connect better. Bottomline, don't just be the Copyreader, get more emotional on the spot and act it out rather than speak it out.


5. Be consistent, make sure you stay in your character. Sometimes it's easy to lose sight of who your character is and return to who you are originally. You don't want to start with the "Voice of God" and end up sounding like a Marketer. Remember who your character is and stay in that character.


I hope these tips will be as helpful to you as they have been to me.


Thank you for reading.


We'll meet again in my next post.


Aemie.